Founder and Journalist Joanna L Krotz has authored a book tackling gender differences at work and promotes leadership for women
New York based multimedia journalist, author and founder, Joanna L Krotz is a longtime and successful proponent of women's entrepreneurship, leadership for women and women's rights.
Her prolific media career has seen her interview hundreds of male and female entrepreneurs with a view to shining a much-needed light on gender differences in the workplace, whilst advocating that men and women are, and should remain equal.
Today, as a well-respected American visionary, Joanna continues to inspire professional women. As well as encouraging them to rethink and modify their work and social actions, she hopes to foster a lasting change in societies' understanding and expectations of working women and their rising power and wealth.
Her latest book release, Being Equal Doesn't Mean Being the Same (Paperback)–by Joanna L. Krotz [2016 Edition]
is a call to action to women to launch their own businesses as today's best route to parity, purpose, passion and prosperity. She has also authored The Guide to Intelligent Giving: Make a Difference in the World–and in Your Own Life
and Making Philanthropy Count: How Women Are Changing the World.
Joanna is the founder of The Woman's Playbook and the editorial director of Muse2Muse Productions, a bespoke New York boutique content provider.
Here she tells Nativa World about her own entrepreneurial journey and details why she's re-writing the rule book and hopes other businesswomen will join her in tackling gender differences at work
'Most of women's contributions is new and first-time growth, including what they invent, produce, buy and spend to support themselves, their families and their communities. Women therefore will drive the 21st century global economy.'–Joanna L Krotz, author, entrepreneur and speaker.
Joanna, what does the word 'Achieve' mean to you?
Basically, "Be careful what you wish for." Because, as a corollary, that's what you will spend time, talent and treasure on pursuing. "Achieve" supports the journey of moving toward goals that ultimately spurs the next loop or level of journeys.
What shape has your own professional journey taken thus far?
I'm always engaged by "What's next?" That fed a habit of continually trading up jobs, mostly as a national magazine editor, and being tapped as a "change agent." But mandates for change tend to erode, and when I kept expecting and promoting change, I no longer "fit in." Being a lone ranger also fuels the search for the next opportunity. So long as I was content to sit in the back and agree with the status quo, everything was swell. But I wouldn't—somehow couldn't—play by prevailing rules, even though it likely limited some promotions. After years of this, it dawned on me that I didn't "fit in" because I was female and outspoken. I stopped blaming myself for my "difficult personality." As soon as I became own boss, my chronic sinus condition cleared up.
I've heard virtually identical stories from many women who escape corporate corridors to launch their own ventures. Maybe such workplaces will evolve in a decade or two, or four or five. But for the foreseeable future, I believe, when it's possible, women will find greater wellbeing—emotionally, psychologically, physically and, one hopes, financially—by founding companies and drafting their own business playbooks. Because gender matters.
What role do you play in the female entrepreneur and philanthropy space in the United States?
Over the past decade especially, women's contributions to business and philanthropy have accelerated. Yet the bulk of their efforts and success is going under-reported, undervalued, unrecognized, unacknowledged, underestimated and unappreciated. I'm trying to remove all the "unders." As advocate, author, speaker and media commentator, I'm remaking the global and national narratives and media optics that exclude women's voices. I'm working to expand expectations for women of wealth and power.
On the one hand, since business and social default standards have been made by and for men, I'm demanding more attention and respect for women's ways of performing and behaving. Simultaneously, though, I urge women to step up, which doesn't happen enough. Typically, women want their money to be working for change. They tend to explore new-form business and philanthropic structures, such as social entrepreneurship and impact investing. So I believe it's time for women to put on their big-girl pants, expend their growing intellectual and financial capital, and take charge. These are the themes of my just-published book Being Equal Doesn't Mean Being the Same, which also offers practical advice about how to plan and achieve such goals. By becoming entrepreneurs, the thousands of women now limited by glass ceilings. glass cliffs and Mommy tracks can change their lives and take charge of the future they desire and deserve.
I'm also contributing a column about women's leadership generally, rather than specifically about business owners, to Working Mother magazine. And I've collaborated with 19 really impressive women in a book called Leading Women: 20 Influential Women Share Their Secrets to Leadership, Business, and Life
I'm hoping to take this message on the road, in speaking around the country in conjunction with the release of my book, but also internationally. Recently, I became an Ambassador for UnitedSucces, which is the first global organization dedicated to supporting women business owners. I'm looking to help build a better and more powerful network of resources and funding for women entrepreneurs worldwide.
How did 'The Woman's Playbook' come to life?
For years, as an MSN and Microsoft small business columnist, I interviewed dozens of women and men about the ways they launched and led ventures. I asked seriously discomforting and politically incorrect questions about gender differences and decisions. For example, one column that was kind of out there asked: "Is it okay to make eyes at a prospect?" In other words, when selling your company wares, is it a good idea to seal the deal by flirting? That got a lot of attentions, boos and huzzahs both. Mostly, everyone acknowledged that as women assume leadership or senior positions, sex will be a workplace factor, one way or another. Everyone thought it was a fine line to walk, for sure, but interestingly, younger people saw flirting as just part of the workplace dance. Boomers thought it would bring women back to the dark ages.
The Woman's Playbook platform grew out of the knowledge I gained from those columns. It was founded on my conviction that women entrepreneurs launch and lead businesses that are categorically different from those of men. Most business and media platforms for women seem to dumb down male-oriented organizational blueprints or else lift up pink-tinged emotional exhortations for "empowerment." I've yet to see either of those approaches work well, mostly because they don't much respect or explore the distinctive disparities women bring to the party. Further research and interviews for the podcasts and my book proved I was right. For just one dramatic example, ask women why they started a business and the most frequent responses are a desire for work-life balance, self-fulfillment or job satisfaction, according to research from the US Small Business Administration. And men? Most typically, they say they launch to make money. So: transformation vs. transaction.
What do you think women lack in business and how they help reduce gender differences at work?
Generally (meaning not every woman and not all the time), women quickly connect with prospects and stakeholders, build staff loyalty and encourage employee contributions, feel comfortable with uncertainty and multitask skillfully. Women also have been shown to identify market opportunities early and are adept at leveraging social media. On the flip side, women too frequently undersell their accomplishments, shy away from asking for funding and tend to suffer from the 'Superwoman Syndrome' – they won't ask for help or delegate.
How important is financial independence for women?
Whether among women with old wealth, women living paycheck to paycheck or women in between, I have seen that only after arriving at a clear understanding of emotions about money can you attain the freedom to pursue power. Coming to terms with money fears and feelings, owning and accepting and, yes, sometimes changing, your money personality, will lead to more authentic and effective choices. It will free you from denial, from running away, from giving over to a guy or a relative, and from making decisions by default. If you don't believe that money gives you voice and power, then you can't use it in a mature way.
What can we expect to see from female entrepreneurs in the future?
Women's worldwide economic power is only just emerging, but it's expanding fast and has extraordinary potential to grow. In 2012, the latest data available, more than 126 million women entrepreneurs were starting or running new business ventures in 67 economies. Roughly 12 million of those women were expected to grow their businesses by hiring at least six employees through 2018, according to the Global Entrepreneurship Monitor. Meanwhile, by comparison, contributions of men (that is, everyone who added economic value before women were tracked) have stabilized or slowed. That means most of women's contributions is new and first-time growth, including what they invent, produce, buy and spend to support themselves, their families and their communities. Women therefore will drive the 21st century global economy.
Who inspires you in the business world and why?
Anyone, male or female, who takes a leap and tries to change the rules and the conventions that aren't working.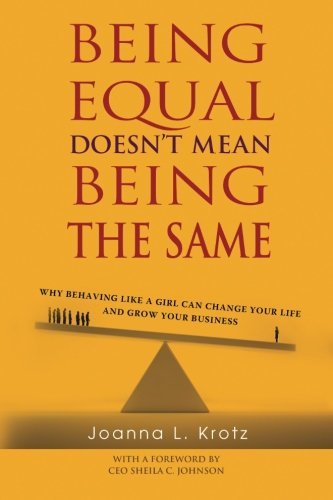 To listen to Joanna you can join her at The Woman's Playbook.
Photography courtesy of Joanna L Krotz