Ready to wear clothing by one of America's hottest fashion labels which offers modern women fashionable workwear
Aella is an American fashion brand which fuses style with comfort and purpose, whilst producing luxurious fashionable workwear.
And as a favorite digital clothing destination for businesswomen,  Aella's modern essentials include trenches, pants, blazers, pencil skirts and T-shirts, all of which can be transitioned quickly and effortlessly from work to travel to play.
What's more, just as this pioneering company and clothing label maximizes any professional woman's wardrobe, because of the fabrics Aella uses, their affordable, ready-to-wear clothing are lightweight. fade-resistant, machine washable and don't crease.
The brand's focus on thoughtful manufacturing practices also appeals to many of their customers, as does their use of high quality materials.
Aella's timeless fashion items and ready to wear clothing suit any silhouette and are sold year round, with specific launches throughout the seasons.
Their primary release has been a flattering and popular convertible trench. Available in three colors and this item can be worn in three different ways. It's also fade resistant, machine washable and wrinkle resistant.
The graceful trench is made from a quality 'Matte' fabric which is produced at an Italian storied mill. Known for its sustainable practices, the mill also supplies luxury brands such as La Perla and Lanvin.
The chic Aella blazers are also versatile and machine-washable.
Aella's signature, second-skin black pants feel like yoga bottoms. They can easily create a polished look for day or night and are flawlessly made with soft, sleek lines.
Aella has also launched a stunning new T-shirt line. The Classic Crewneck is short-sleeved and has a rounded bottom and the Draped Asymmetrical Crewneck has a feminine front drape which cascades beautifully to the side.
Both T-Shirts work very well worn with a smart suit or jeans, and also feature unique prints inspired by interpretations of water.
Aella's proprietary 'Feather Skin' fabric is used to make these T-shirts. This bespoke fabric helps combine luxury feel with performance, and builds on Aella's foundation of producing sleek, ready-to-wear items that are designed to feel like comfortable yoga-wear.
Unlike the Matte fabric, the Feather Skin fabric is produced at the companies own knitting mill in Los Angeles.
Here the fabric is made combining the inner functionality of dry-fit activewear, with the outer softness of Pima Cotton and Micromodal.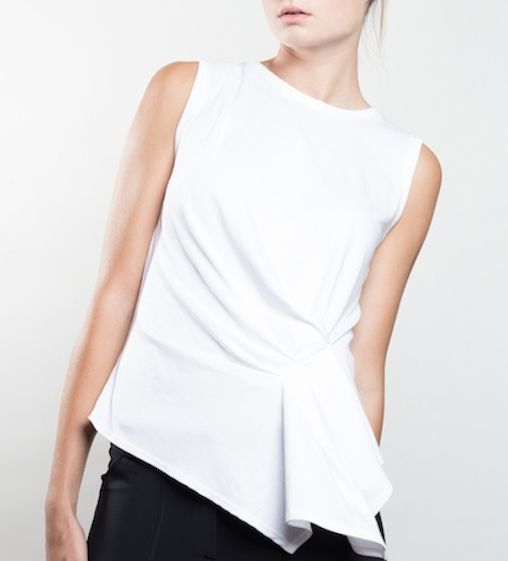 This unique combination creates a luxuriously soft feel with an inner layer of moisture locking 'wicking coolmax'  which helps to keep women comfortable and cool throughout any hectic days.
This online clothing store is the brainchild of Eunice Cho who came to the realization that suits for business were often expensive and uncomfortable.
On the look out for pants that were flattering, affordable and appropriate for any occasion, Ms  Cho quickly set to work researching and developing fabrics.
Within two years, clothing label, Aella was warmly welcomed into the fashion world and appeals to women who know how to dress well and look stylish in tandem.
The Aella Convertible Trench-Facts:
1 piece that can be worn 3 ways: wear as a full trench, unsnap the skirt to wear as a draped cardigan, or tuck in the draped neckline to wear as a cropped shirt!
Machine-washable, fade-resistant, light-weight and semi-stretch
Perfect for travel! Instead of packing 3 pieces, pack just one.
Comes in 3 colors: Dusty Blue, Olive, & Black
The Aella Relaxed Trouser- Facts:
They feel like yoga pants but look polished enough to wear to the office
Wrinkle-resistant – making them perfect for flights. Also, machine-washable
Features the softest elastic in the waist for added comfort. Goodbye muffin top!
Wear the pant leg down with heels for a business meeting, or roll up the leg to reveal a mesh inner layer for play!
Aellla offers the option of providing a second size to try on- free of charge- so that customers can find their perfect fit.  Further information about ordering online can be found on the Aella website.
Photography courtesy of Sara Clarken